Wooden Blinds Christchurch
Have you just typed "wooden blinds Christchurch" into Google because you are trying to find an established company that can offer you a full made-to-measure service at a fantastically affordable price? Look no further than Jayem Blinds to provide you with a tailored service unlike any other. To find out more about everything we can offer you and get a free quote, call our friendly team at your earliest convenience on 01202 422 525.
Our selection of wooden blinds in Christchurch
Christchurch wooden blinds are an increasingly popular choice and it is easy to see why. They are distinguished as well as elegant, giving you a classic look, which offers a naturalistic aesthetic that will never go out of style. The beauty of natural wood cannot be rivalled, which is proven by the fact that wooden flooring and furnishings are a growing trend.
All of our wooden blinds Christchurch residents will love are manufactured to the highest possible standards. Whichever blind you end up choosing from our impressive range, it will be carefully crafted as well as visually striking.
Wooden blinds will complement almost all styles of décor due to their classic subtle look that will always remain attractive and stylish. To add an additional touch of class into any living space, reach out to Jayem Blinds as we provide the finest wooden blinds Christchurch has ever seen.
Jayem Blinds offers free quotations with no strings attached, so you can get an idea of the total cost for your new solution. There is no obligation to commit at this early stage of the process, so you have nothing to lose and everything to gain by reaching out!
Our image gallery
We have many high resolution images of our fittings available to view in our virtual gallery. Please take some time to browse through it if you are interested in seeing what our team members are capable of achieving first hand. From wooden blinds in Christchurch to awnings in Bournemouth, Jayem Blinds has got you covered.
Safety tips about wooden blinds Christchurch residents should read
There are millions of blinds sold in Britain every single year, so it is important to have some simple guidelines in place for parents and carers on how to avoid potential hazards to their children. We remind customers to not place a child's cot, bed or high chair near a window where a blind cord can be reached.
Carers and parents are reminded that the risk can only be completely eliminated by keeping cords, chains, tapes and any other similar objects out of children's reach. Additional safety devices may be used to reduce the risk. Please follow the safety instructions as provided by Jayem Blinds.
Why choose Jayem Blinds to supply your Christchurch wooden blinds?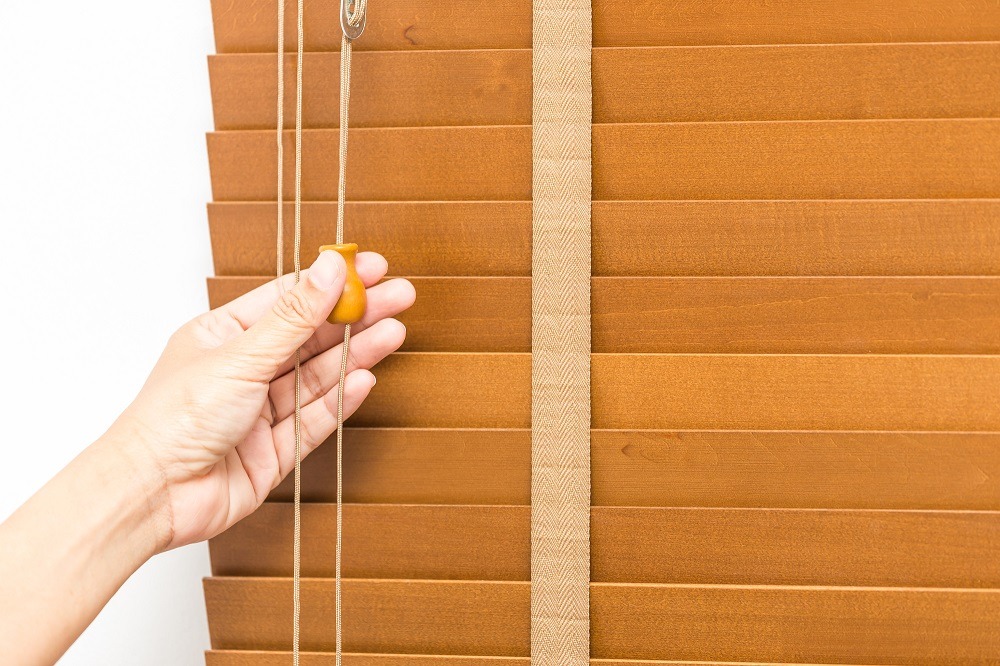 As a family run business, we are able to offer our customers a truly personalised approach. Our aim is to always establish a long-term business relationship with all of our customers, so you will know that Jayem Blinds will always go the extra mile for you. We believe this unique approach has been the source of our success.
Here at Jayem Blinds, we work for domestic clients and commercial customers alike. We are very proud of the loyal client base that we have built up over the years. In the past, we have supplied numerous local:
Hotels
Hospitals
Nursing Homes
Bed and Breakfasts
Office Buildings
Shopfronts
"Jayem Blinds were a pleasure to work with and their craftsmen are very courteous and helpful with regards to all of the questions I had asked. I would strongly urge anyone that is in needs of a new set of blinds to contact this company first." –M. Rycroft, Wooden Blinds Christchurch Customer Testimonial
The comment above is one of the numerous positive testimonials that we have received from our customers over the years. Not only do we regularly get feedback such as this, many of our past clients actually go on to recommend our services. Many people purchase our wooden blinds in Christchurch because they have heard about our company through a friend, colleague or family member.
It should be clear based on all of the above information that no other company offering Christchurch wooden blinds can compete with everything that the Jayem Blinds team brings to the table. Should you have any more questions about any of our services, then please do not hesitate to reach out via one of the below contact methods.
Contact us for the best quality wooden blinds Christchurch can offer
Are you now convinced beyond any doubt that there is only one company that truly stands out among all the wooden blinds Christchurch suppliers and that is Jayem Blinds? Contact us any time to start benefiting from our expertise and products today. You are more than welcome to either call us directly on 01202 422 525, e-mail your requirements right on over to sales@jayemblinds.co.uk or fill out our simple online form. We will get back to you very shortly to advise!